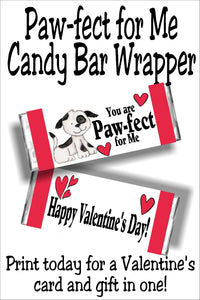 You Are Paw-fect for Me Candy Bar Wrapper
"You're Paw-fect for Me" Candy Bar Wrapper Valentine's Day Card is the purr-fect way to show your love and affection to someone special this Valentine's Day. This unique and thoughtful gift combines the sweet taste of a chocolate bar with a touching message, making it a perfect surprise for your child, significant other, best friend, or family member.
The candy bar wrapper features a cute puppy dog design and the message "You're Paw-fect for Me" in bold, black font, making it a fun and playful way to celebrate the holiday of love. Simply wrap the wrapper around a standard size chocolate bar, and you have a thoughtful and delicious gift that your loved one is sure to cherish.
Candy bar wrapper comes in two ways.  
Download Candy Bar Wrapper Option
Download the wrapper today and print at home for the perfect gift tonight, or let us print and mail the wrapper along with a silver candy bar foil to make your wrapper a sweet card and gift in one.
Wrapper and Foil Option
Downloaded wrapper is available directly upon completion of your purchase and comes in both JPG and PDF format.  Inside zip file you will find both formats in a single candy bar wrapper on a page and a double candy bar wrapper on a page.  You will also find the candy bar wrapper without any writing so you can upload to your favorite graphics program for the perfect Valentine's treat.
Whether you're looking for a thoughtful and unique gift for your significant other, a sweet surprise for your best friend, or a special way to show your love to a family member, this "You're Paw-fect for Me" Candy Bar Wrapper Valentine's Day Card is the perfect choice. So why wait? Show your love today with this adorable and delicious gift!