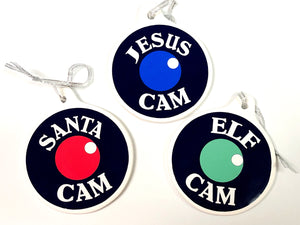 Santa Cam Christmas Ornament
Let your little ones know that Santa, the Elf, or Jesus are watching over them with this simple, fun Christmas ornament for your Christmas tree.
Ornament is a 3 1/2 inch white ceramic round that looks like a camera eye watching your kids to make sure they are being good this holiday season.  Outside circle is black with white wording reading "Santa Cam", "Jesus Cam", or "Elf Cam".  Inside circle is red, blue, or green depending upon wording.
Back of ornament looks the same to keep an eye on the kids wherever they are this Christmas season.
Ornament has a 3 inch circle laminated, permanent sticker with the design on both sides.  Ornament will be hand crafted within 2 business days of purchase and mailed off to your home so you will be sure to have "good" kids this holiday season.