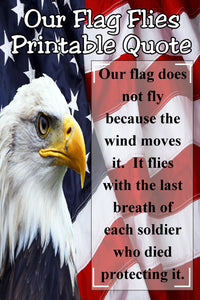 Our Flag Flies Patriotic Quote
"Our flag does not fly because the wind moves it. It flies with the last breath of each soldier who dies protecting it."
This patriotic quote is perfect for your Memorial day decor or showing your patriotism and support for those who serve our country.
This quote is available in different formats:
2 by 3 1/2 inch Magnet:
Magnet is on a business card size magnet with a glossy print on the front.  Magnet is thin and perfect for your kitchen decor.
Magnet will be shipped out with in 1 business day of purchase.
3 by 5 inch Notebook
Quote is also available as a 70 page 3 by 5 inch notebook.  Notebook has a laminated front with the quote on that.
Notebook will be shipped out within one business day of purchase.
6 inch Quote Ceramic Tile:
Quote is printed on a permanent sticker with a laminated front. Sticker is placed on a white, glossy tile that's perfect for your patriotic decor
Tile will be shipped out within one business day.
Printable Quote File:
Quote file comes with the printable quote in both JPG and PDF picture files.  Quotes come in a 8 1/2 by 11 inch size, 8 by 10 inch size, 5 by 7 inch size, 4 by 6 inch size, 3 by 5 inch size, and 2 by 3 1/2 inch size (business card size.) 
You will also receive quote in a JPG file that you can use as a cover photo on Facebook, a wallpaper on your phone, and a square for sharing on your Instagram page.
File will come as a zip file that must be unzipped before you can print. Please see our FAQs section if you need help with this.  Download link will be available upon completion of purchase.