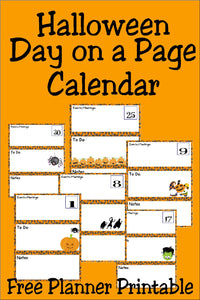 Halloween Printable Daily Calendar Planner
If you are a Halloween fan and love to decorate for the spooky, fun holiday, this daily calendar is the perfect planner printable.  It has the date, but not the month and day of the week.  You can use it for any month of the year. 
The calendar page is split into three boxes with a red and gold orange background with cute black bats.  Each page has an "Events/Meetings:" box, a "To Do:" box, and a "Notes" box.  The writings are in a black Halloween font to tie the fun together.
In the center "To Do" box on each page, there is some type of Halloween graphic to keep each page interesting and fun.
You will find 31 different pages so you can use this for a long or short month.  
Each page of this planner is in 300 dpi in JPG and PDF format.  You can resize the pages to fit any size planner that you have, whether it's a full size or half page like me.