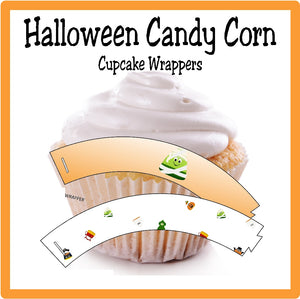 Candy Corn Cupcake Wrappers
Wrap your cupcakes in cuteness with these printable candy corn cupcake wrappers perfect for your Halloween party.
Cupcake wrappers have two different designs.
One has the gradiant background with three cupcakes wrappers.  Each wrapper has a different candy corn trick or treater including a pirate, a devil, and a green monster. 
The second design has a white background with the little trick or treater candy corn scattered over the cupcakes wrapper in little graphics
Wrappers come in both a JPG and PDF format inside a zip file that must be unzipped to use and print.  Please see our FAQs section if you need help with this.