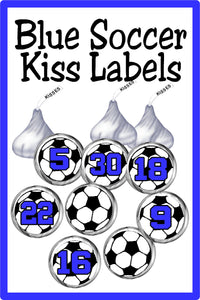 Blue Soccer Kiss Printable Labels
Bring these printable Kiss labels to your team Soccer party and celebrate each player on the team.  Kiss labels have all the numbers you need to just print the players on your team for a personalized treat at your soccer party.
These kiss labels come with the numbers 1 through 30 in a blue color on top of a soccer ball.  Included is also a blank soccer ball.
You can print out the numbers that you need so there are kisses for each player on your team.  Only print the numbers you need for the perfect party treat for your soccer team.
You'll find each of the numbers in both JPG and PDF format for easy printing.
Included is also directions on how to make these kiss labels with sticker paper, hot glue, or a sticker maker.