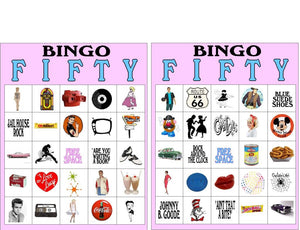 50s Sock Hop Bingo Game Printable
Add this fun Bingo party printable to your Fifties Sock Hop party.  Bingo game has 30 printable cards, which come in a JPG file for you to print out 2 to a page.  Simply print out cards and cut them out to enjoy game. 
Bingo pieces come ready to be printed out and cut into circles.  Add these graphic tags to wooden circle discs.  Place into a bag and draw out each graphic to Win Bingo!
If you like this Sock Hop party idea, check out these: