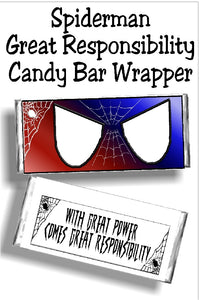 Spiderman Great Power Candy Bar Wrapper
Save the day with this printable candy bar wrapper featuring your favorite Spider superhero and his famous saying. WRapper is perfect to use as a party favor or treat at your next Spiderman or Superhero party
This spiderman wrapper has a red and blue design with spiderman's eyes on the front with a black and white spider web frame on the back.
Inside frame on back reads "With Great Power Comes Great Responsibility" in a spiderman font.
This printable comes inside a zip file with both a JPG and PDF format.  That allows you to print whichever way or program works best for you.  Plus, it comes with one candy bar wrapper on a page and with two wrappers on a page. 
The wrappers are super easy to print too.  
Simply download and unzip the file.  Choose the format that works best for you and print out on a colored printer.  I love to use this photo paper and these foils to wrap the bar.